Keyboard Proficiency Examination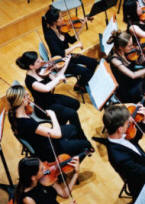 All candidates, whose major instrument is not the piano, are required to prepare three works from the following repertoire (or works of similar difficulty):
1) Bach – Inventions for two voices or sinfonies (three voices)
2) An easy sonata (first movement or second and third movement) by Haydn, Mozart or Beethoven.
3) A Romantic work (19th century), or a work from the 20th century (for example: Mendelssohn – Songs without Words, Schumann – op. 68, Tchaikovsky – op. 39, Kabalevsky – op. 27, Bartok – Mikrokosmos III, II, Debussy – Preludes, Scriabin – Preludes)
Students who do not pass the keyboard proficiency examination before commencing their studies at the BMSM, are required to re-take the test by the end of their first year.
Canditates for composition and conducting studies:
By the end of the first year of studies the students are required to pass the keyboard proficiency examination according to the above repertoire. According to the results of the exam it will be determined if the student receives a grade or will be required to take lessons in piano (as a minor) and take the exam at the end of the second year. The piano lessons are given within and supervised by the school.